The 5 Best Celine Bags on the Resale Market Right Now
Disclaimer: This article contains affiliate links. We may receive a small commission if you make a purchase through one of these links. Please read our Affiliate Disclosure for more information.
Celine bags are some of the most iconic and stylish pieces on the market. If you're looking to invest in a Celine bag, or just want to browse some of the best styles out there, check out our list of the 5 best Celine bags on the resale market right now.
From classic styles to new season favorites, there's something for everyone. So whether you're in the market for a timeless piece or want to stay up-to-date with the latest trends, read on for our top picks.
Why Buy a Second-Hand Celine Bag Instead of a New One?
When it comes to buying a Celine bag, the resale market is definitely worth considering. While a brand-new Celine bag will easily set you back thousands of dollars, the pre-loved versions are often available in pristine condition at much more affordable prices.
What's even better is that these bags no longer come with any sacrifice on style or quality – so you can be sure that a vintage Celine bag is every bit as fashion-forward and meticulously crafted as a new one. Investing in a secondhand bag from this iconic French brand won't just save you money; it'll also give you the opportunity to own a unique piece of fashion history.
The Best Celine Bags on the Resale Market Right Now
Here's our guide to the top 5 pre-loved Celine bags on the resale market right now. Get ready to fall in love with a style that will last you a lifetime.
The Celine Luggage Tote
Crafted from buttery-soft leather and finished with a delicate scroll trim, the Celine Luggage Tote is a must-have for the modern fashionista. Structured in form and shape this luxury tote features dual top handles and an oversized zipper – perfect for storing all those everyday essentials.
Look out for an interior lined in sumptuous suede with multiple pockets to keep personal belongings organize and secure – you won't be able to resist. Truly timeless, you can dress it up or down. Whether you choose the Micro, Nano, or Classic size, this bag will be sure to turn heads.
Browse Celine Luggage Totes on Fashionphile.
The Celine Trapeze Bag
The Celine Trapeze Bag is the epitome of effortless style. Crafted from luxuriously soft calfskin leather, this bag offers generous interior space and an iconic shape that will lend a touch of timeless sophistication to any outfit. The foldover flap closure is secured by a flip-lock for extra security and convenience, while rolled leather handles and an optional shoulder strap provide multiple carrying options.
Whether you're stepping out for brunch or hitting the town for drinks, this versatile design allows you to transition seamlessly from each event with total grace and poise.
Browse Celine Trapeze bags on Fashionphile.
The Celine Belt Bag
The Celine Belt Bag is a wardrobe staple suited to the modern sophisticate. Its stylish, structured shape offers a sophisticated alternative to bulky purses and bulky totes, while its grained leather exterior gives the piece an effortlessly chic aesthetic.
Ideal for day or night, this bag features an easily accessible top handle as well as an optional adjustable shoulder strap – both adorned with aged brass clasps for a subtle hint of luxe. The sleek suede interior comes complete with a hanging zipper pocket, ensuring all your essentials stay organized and secure.
Browse Celine Belt Bags on Fashionphile.
The Celine Classic Box Flap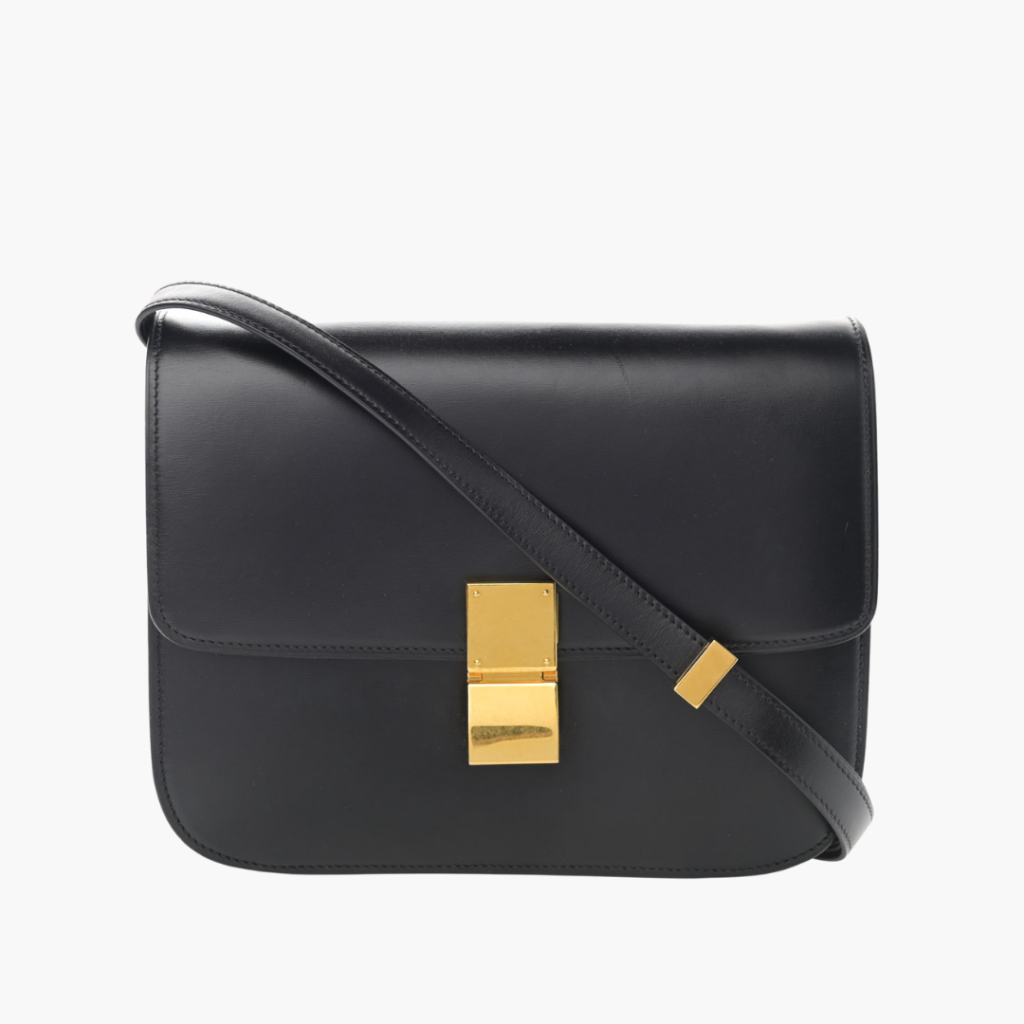 If you want an accessory that exudes classic elegance and timeless style, look no further than the gorgeous Celine Classic Box Flap. With an exquisitely smooth and finely-grained leather composition, this shoulder bag is sure to add a touch of luxury to any ensemble.
Its gold press lock opens up to dual compartments and pockets, making everyday life easier and elevating your look in just one move. Plus, the long leather strap is perfect for days when you need your hands free.
Browse Celine Classic Box Flaps on Fashionphile.
The Celine Vertical Cabas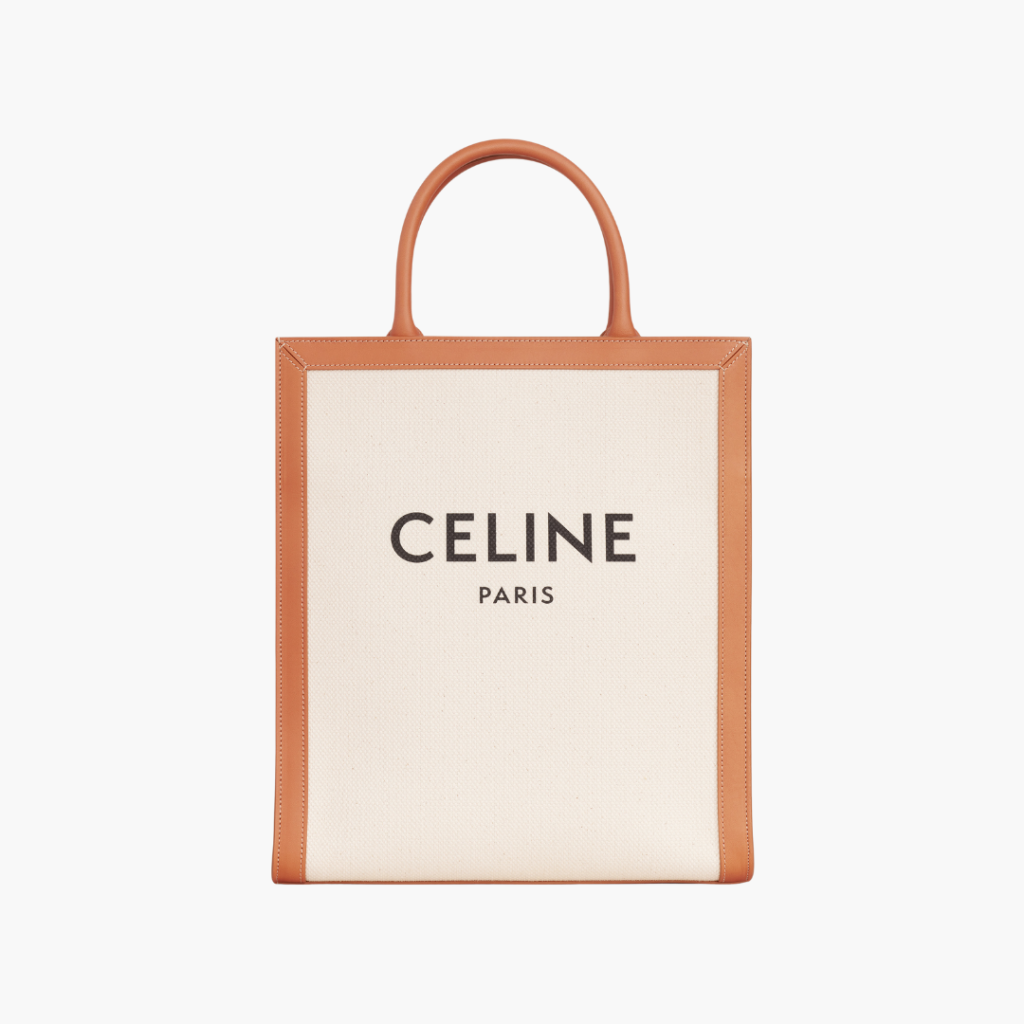 The Celine Vertical Cabas is an effortlessly chic companion, wherever your travels may take you. Crafted from natural canvas with luxurious leather handles and Celine logo emblazoned across the center, this clean-cut tote will look sharp against your springtime silhouettes.
Perfect for everyday use or perhaps a shopping excursion with friends, the open top offers quick access to the roomy canvas interior while zipper and patch pockets keep items safe and secure. Once you slip on this perfect piece of arm candy, you won't ever want to let it go.
Browse Celine Vertical Cabas Totes on Fashionphile.
The 5 Best Celine Bags on the Resale Market Right Now
The Celine bags on the resale market right now are some of the most sought-after and stylish designs available. From the iconic Celine Luggage Tote to the sleek and timeless Classic Box Flap, these designer bags offer a range of styles and sizes to suit any wardrobe.
The Trapeze Bag provides a sophisticated alternative to bulky totes while the Belt Bag offers an easily accessible option for days when you need your hands free. Lastly, the Vertical Cabas offers a daringly chic take on the everyday tote. Whether you're going for something simple and classic or pushing the boundaries of fashion, these five Celine bags will give you plenty of options.